Simple Jira Story Estimations for Remote Developers
Estimate together anywhere in realtime and synchronize with Atlassian Jira.
Create your account
30 days free trial No credit card required
easy integration with
Import stories from Jira Cloud
Get a quick overview of all stories and select the ones to estimate.
Moderate a session
Lead a session by selecting the current story every team member should estimate.
Provide estimations
All team members see the same story. Choose a card for the estimated effort: XS, S, M, L or XL. It works great on mobile too.📱
Save estimations in Jira Cloud
Estimations are stored in Jira automatically. No hassle.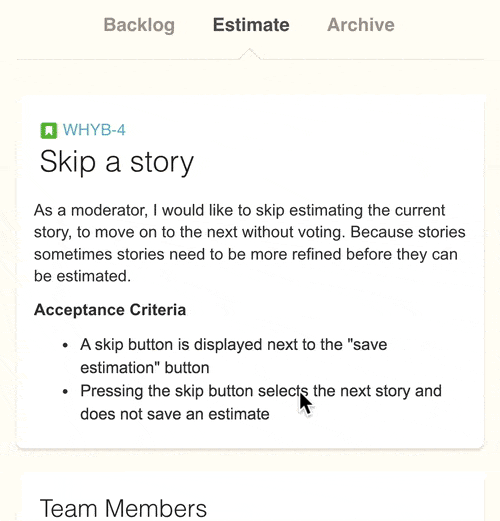 Peace-of-mind as a service
Unlimited members, stories and session
Only pay per agile board, don't worry about any other costs.
Automated team management
No invites needed, just log in with your Atlassian account.
"Datensparsamkeit" only necessary data is stored
Data that is not needed anymore gets automatically cleaned up.